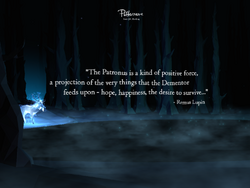 The patronus quiz is an interactive feature on Pottermore. Users pick one of many timed choices with their instinct and follow the story to find out which animal will become their magical guardian.
If the user's Patronus Charm is particularly rare, then the user may be asked an additional question to clarify it.[1]
Known choices
Edit
Known patronus forms
Edit
Behind the scenes
Edit
Following a joke on Twitter, Harry Potter author J. K. Rowling was forced to clarify that a harambe - which is a type of gorilla - is not an available patronus form.[2]
Notes and references
Edit
Ad blocker interference detected!
Wikia is a free-to-use site that makes money from advertising. We have a modified experience for viewers using ad blockers

Wikia is not accessible if you've made further modifications. Remove the custom ad blocker rule(s) and the page will load as expected.