"Is this all real? Or has this been happening inside my head?"

The subject of this article is of a real-life person, place, group, company, product, or creative work that has been mentioned "in-universe" in a canon source. The Harry Potter Wiki is written from the perspective that all information presented in canon is true (e.g., Hogwarts really exists), and, as such, details contained in this article may differ from real world facts.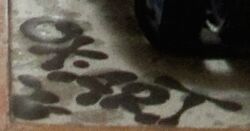 Ox-Art was presumably an artist or art collective.[1] The Weasley family owned a coffee table inlaid with tiles made by Ox-Art, which were painted with a brown geometric design, and dated 1976.[1]
Behind the scenes
The coffee table featured in Harry Potter and the Deathly Hallows: Part 1 is one of a line of tile-inlaid tables (which included dining tables, coffee tables, and end tables) produced by the Danish furniture company Trioh in the 1970s.[2][3][4] The tiles on this line of tables were typically signed "Ox-Art" and dated with the year of manufacture.[2][3][4] It is unknown whether "Ox-Art" was an individual artist, collective, or designer.
Appearances
Notes and references