Owl Treat
Talk

0
11,915pages on
this wiki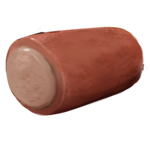 Owl Treats
are pet food intended for consumption by
owls
.
Harry Potter
fed
Hedwig
, his
Snowy Owl
,
Eeylops Premium Owl Treats
.
Ron Weasley
also sometimes fed these to his owl,
Pigwidgeon
. In
1994
, while Harry Potter was staying over at
The Burrow
, Pigwidgeon made a racket as everyone was packing for the journey to
Platform Nine and Three-Quarters
, and Ron commented "Bung him some Owl Treats. It might shut him up." A bit later, Pigwidgeon choked on an overlarge treat, which, along with his awful
dress robes
, led him to comment "Why is everything I own rubbish?"
[1]
Appearances
Notes and references