Ook (born c. 1984) is a male snowy owl who was cast as Hedwig for Harry Potter and the Philosopher's Stone.[1] Gizmo, another snowy owl, played Hedwig in most scenes in the film, and thus Ook was presumably one of the extra owls used for flying shots.[2]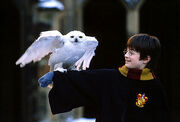 Ook was the very first cast member to land a role in Philosopher's Stone.[1] He is owned by Roger Pearson, of the Natural History Lecture Service, who has toured British schools with him, giving lectures on natural history.[1]
See also
Notes and references
Ad blocker interference detected!
Wikia is a free-to-use site that makes money from advertising. We have a modified experience for viewers using ad blockers

Wikia is not accessible if you've made further modifications. Remove the custom ad blocker rule(s) and the page will load as expected.