"We must've been through hundreds of books already and we can't find him anywhere —"

This article is lacking a section listing all of its known appearances in canon. Please help the Harry Potter Wiki by adding such a section, so that it conforms with our layout guide.
Severus Snape: "The headmaster has sent me to tell you, Potter, that it is his wish for you to study Occlumency this term"
Harry Potter: "Study what?"
Severus Snape: "Occlumency, Potter. The magical defense of the mind against external penetration. An obscure branch of magic, but a highly useful one"
— Severus Snape, an accomplished Occlumens, telling Harry Potter about Occlumency in 12 Grimmauld Place
Occlumency is the act of magically closing one's mind against Legilimency. It can prevent a Legilimens from accessing one's thoughts and feelings, or influencing them. A person who practises this art is known as an Occlumens.
Methods
"I told you to empty yourself of emotion! ... Fools who wear their hearts proudly on their sleeves, who cannot control their emotions, who wallow in sad memories and allow themselves to be provoked this easily — weak people, in other words — they stand no chance against his powers! He will penetrate your mind with absurd ease, Potter!"
—Severus Snape to Harry Potter on the difficulty of learning Occlumency
The most basic form of Occlumency, judging from Severus Snape's early lessons on the subject to Harry Potter, involves clearing one's mind — making it "blank and empty" — in order to prevent a Legilimens from perceiving one's emotions and thoughts. More advanced Occlumency involves suppressing only the thoughts, emotions, and memories that would contradict whatever it is an Occlumens wishes a Legilimens to believe; hence, it is not obvious that Occlumency is being used even if the person is lying. It requires a great deal of will power, as with resisting the Imperius Curse, as well as a high degree of mental and emotional discipline. It is also one method of resisting the influence of Veritaserum.[1]
Occlumency is not part of the normal curriculum taught at Hogwarts School of Witchcraft and Wizardry and appears to be a rare and difficult skill.
Examples
Severus Snape: "It appears there is a connection between the Dark Lord's mind and your own. Whether he is, as yet, aware of this connection is for the moment unclear. Pray he remains ignorant."
Harry Potter: "You mean if he knows about it then, he'll be able to read my mind."
Severus Snape: "Read it, control it, unhinge it... Used properly, the power of Occlumency will help shield you from access or influence. In these lessons I will attempt to penetrate your mind. You will attempt to resist. Prepare yourself! Legilimens!"
— Snape and Harry during an Occlumency lesson
In the 1995–1996 school year, Albus Dumbledore had Severus Snape teach Harry Potter Occlumency in an effort to prevent his mind from being penetrated and influenced by Lord Voldemort. Snape was a highly skilled Occlumens, being able to successfully deceive extremely accomplished Legilimens Voldemort, but his lessons with Harry were ultimately unsuccessful. Harry was not able to repel most attacks, though it is likely that the personal enmity between him and Snape as well as the stressful events in his life that year hindered his ability. He eventually gave up attempting to learn. Harry later managed to block his connection to Voldemort, on occasion, by focusing on feelings of love and grief, rather than by using Occlumency.
Hermione: "Dumbledore wanted you to use Occlumency! He thought the connection was dangerous... So you're not even going to try to shut him out?"
Harry: "Hermione, I can't. You know I'm lousy at Occlumency. I never got the hang of it."
Hermione: "You never really tried!"
— Harry Potter and Hermione Granger arguing in 1997
Snape himself also employed Occlumency to hide his loyalty to the Order of the Phoenix from Voldemort, and due to his well-known mastery, both sides had difficulty trusting him.[1]
In 1996, Bellatrix Lestrange trained her nephew, Draco Malfoy in Occlumency so that he could keep his mission to kill Albus Dumbledore a secret. Draco became skilled enough to repel Snape's attempts at Legilimency.[2] Draco's success was due to him shutting out his compassion to become the bully he is, making it easy for him to close his mind.[3]
Known Occlumens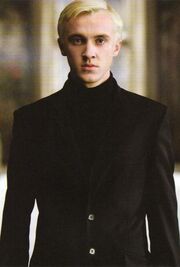 Etymology
The word "occlumency" comes from the English word; occlude, "to conceal". The mens, comes from the Latin for "mind".
Behind the scenes
Notes and references