A Nose-Biting Teacup is presumably an ordinary-looking teacup that has been jinxed to bite the nose of anyone who tries to drink out of it. Ron Weasley and Harry Potter each bought one at Zonko's Joke Shop on a trip to Hogsmeade in 1994.[1]
Weasleys' Wizard Wheezes also carried their own proprietary version of this product.[2]
Appearances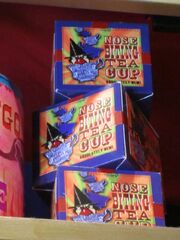 Notes and references
↑ Prisoner of Azkaban, Ch. 14
Ad blocker interference detected!
Wikia is a free-to-use site that makes money from advertising. We have a modified experience for viewers using ad blockers

Wikia is not accessible if you've made further modifications. Remove the custom ad blocker rule(s) and the page will load as expected.