North Tower
Location information
Location
Permanent residents
Affiliation
The North Tower, also known as the Divination Tower, is one of the many towers at Hogwarts School of Witchcraft and Wizardry, connected to the rest of the castle by the Divination corridor. This tower is the location of the Divination Classroom and the Divination professor, Professor Sybill Trelawney's office. Sir Cadogan's portrait is hung somewhere in the tower. The Divination Stairwell is located in this tower.
Class 104, where first-year Xylomancy and Defence Against the Dark Arts is taught, is also located in this tower.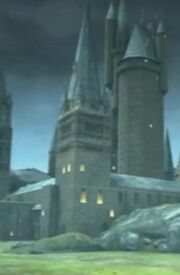 Behind the scenes
Edit
Appearances
Edit