The North Tower, also known as the Divination Tower, is one of the many towers at Hogwarts School of Witchcraft and Wizardry, connected to the rest of the castle by the Divination corridor. This tower is the location of the Divination Classroom and the Divination professor, Professor Sybill Trelawney's office. Sir Cadogan's portrait is hung somewhere in the tower. The Divination Stairwell is located in this tower.
Class 104, where first-year Xylomancy and Defence Against the Dark Arts is taught, is also located in this tower.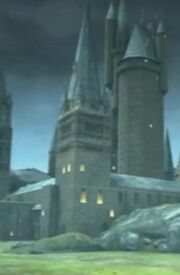 Behind the scenes
Appearances
Ad blocker interference detected!
Wikia is a free-to-use site that makes money from advertising. We have a modified experience for viewers using ad blockers

Wikia is not accessible if you've made further modifications. Remove the custom ad blocker rule(s) and the page will load as expected.