The Nimbus Racing Broom Company is a broomstick company formed in 1967 by Devlin Whitehorn. Its arrival galvanised the racing broom market, and its first product, the Nimbus 1000, was a revolutionary design. The Nimbus immediately became the broom of choice for professional Quidditch teams across Europe, and subsequent models have kept Nimbus at the top of the field until the Firebolt came along.[1]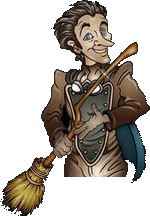 Name etymology
Edit
"Nimbus" is the Latin word for cloud.
Appearances
Edit
Notes and references
Edit
Ad blocker interference detected!
Wikia is a free-to-use site that makes money from advertising. We have a modified experience for viewers using ad blockers

Wikia is not accessible if you've made further modifications. Remove the custom ad blocker rule(s) and the page will load as expected.