Nimbus 2000
Broomstick information
Producer
Made
Usage

Quidditch playing

Speed

Slower than the Nimbus 2001

Owners
The Nimbus 2000 was produced by the Nimbus Racing Broom Company as part of their successful line of racing brooms. Released in 1991, it was, at the time, the fastest broomstick in production. The Nimbus 2000 easily outperformed its competitors on the Quidditch pitch until it was replaced as the top broomstick by the Nimbus 2001. The handle of the broom is made of mahogany.
Known Owners
Harry Potter received one from Minerva McGonagall when he joined the Gryffindor Quidditch team as a Seeker.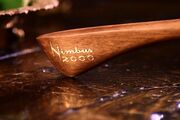 Appearances