"How dare you take a witch's wand?"
The wand of Narcissa Malfoy is of an unknown length, wood, and core materials.
In 1998, Narcissa gave her wand to her son Draco after his own was taken by Harry Potter during a skirmish in Malfoy Manor. It is unknown if Narcissa used another wand during this time.[1]Draco lost it in the Room of Requirement while fighting Harry for Rowena Ravenclaw's Diadem, and it was subsequently destroyed when Vincent Crabbe unleashed Fiendfyre in the room.
Behind the scenes
Appearances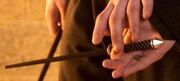 Notes and references