We must've been through hundreds of books already and we can't find him anywhere —

This article is lacking a section listing all of its known appearances in canon. Please help the Harry Potter Wiki by adding such a section, so that it conforms with our layout guide.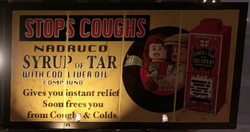 Nadruco Syrup of Tar was a Muggle brand of cough medicine.[1] It contained cod liver oil and promised to provide "instant relief" from coughs and colds.[1]
A billboard advertising this product was erected in Times Square in 1926.[1]
Behind the scenes
National Drug and Chemical Co. (abbreviated Na-Dru-Co) was a real Canadian pharmaceutical company.[2] Based in Montreal, it was founded in 1905, and operated until it was bought by a larger company in the 1980s.[2] Na-Dru-Co actually produced a product called "Syrup of Tar With Cod Liver Oil Compound" in the early 20th century.[3] The packaging depicted in the billboard in LEGO Dimensions is consistent with that used by Na-Dru-Co in reality around 1910.[2]
Notes and references
Notes and references