"I'm going to the music room to try out my new drumsticks."
—An unknown Hogwarts student
The Music Classroom is a classroom located on the fifth-floor corridor of Hogwarts Castle. It is in this classroom that both the Music[1] and Muggle Music[2] classes are taught at Hogwarts School of Witchcraft and Wizardry, by a male professor during the early 1990s.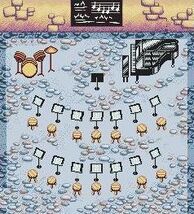 This classroom features rows of music stands and stools, a drum kit, a piano and a conductor's stand as well as a blackboard on the wall. The room most likely held host to a mixture of both vocal and instrumental practices.
Appearances
Notes and references
In the later 1990s and onwards, Charity Burbage (Muggle Studies Professor) and Filius Flitwick (Charms Professor and Head of Ravenclaw House) were noted to teach the class. In the film rendition of Harry Potter and the Prisoner of Azkaban, Filius Flitwick is seen to be conduction a choir made up of talented students and toads.