"I'm going to the music room to try out my new drumsticks."
—An unknown Hogwarts student
The Music Classroom is a classroom located on the fifth-floor corridor of Hogwarts Castle. It is in this classroom that both the Music[1] and Muggle Music[2] classes are taught at Hogwarts School of Witchcraft and Wizardry, by a male professor during the early 1990s.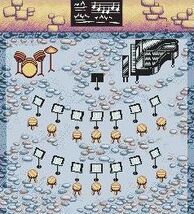 This classroom features rows of music stands and stools, a drum kit, a piano and a conductor's stand as well as a blackboard on the wall. The room most likely held host to a mixture of both vocal and instrumental practises.
Appearances
Edit
Notes and references
Edit
Ad blocker interference detected!
Wikia is a free-to-use site that makes money from advertising. We have a modified experience for viewers using ad blockers

Wikia is not accessible if you've made further modifications. Remove the custom ad blocker rule(s) and the page will load as expected.