"There are plenty of eye-witness accounts. Just because you're so narrow-minded you need to have everything shoved under your nose before you–"

This article contains of a list of appearances, but currently has few or no notes and references. Please help the Harry Potter Wiki by adding notes and/or references to bring this article to a higher standard of quality.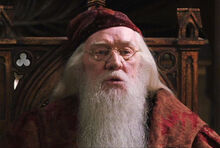 Mudwallower is an incredibly insulting term for "Muggle-lovers." A good example is Albus Dumbledore, a headmaster of Hogwarts School of Witchcraft and Wizardry. Dumbledore championed the rights of Muggles and cherished the equality of Muggle-borns in the wizarding world. This strong belief earned him the derision of prejudiced pure-bloods, who believe that Muggles and Muggle-borns are their inferiors.
See also
Appearances