"He even found me a wife, Mosag..."
—Aragog
Mosag was a female Acromantula, and the wife of Aragog. Sometime before 1993, Mosag gave birth to hundreds of baby acromantulas and co-founded the acromantula colony located in the Forbidden Forest near Hogwarts School of Witchcraft and Wizardry. Her husband died later in 1997. Their colony and descendants took part in the Battle of Hogwarts in 1998.
Biography
Family life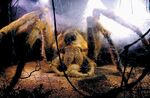 "...and you see how our family has grown, all through Hagrid's goodness..."
—Aragog
Sometime before 1993, Mosag was born and found by Rubeus Hagrid. Hagrid already owned one acromantula, Aragog, who needed a wife to start a colony. Hagrid brought Mosag to the Forbidden Forest near the Hogwarts school grounds and the two reproduced and began a large colony of Acromantulas. These acromantulas quickly grew to form a large colony that would attack any fresh meat. It is likely that she, like Aragog, liked Hagrid, and ordered her sons and daughters not to attack him.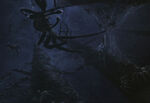 In 1997, Aragog died.[1] Later, when Voldemort attacked Hogwarts castle during the Battle of Hogwarts in 1998, Aragog and Mosag's many sons and daughters were forced by the Death Eaters to fight for their side. However, this fight was won by the Order of the Phoenix, the side opposing the Death Eaters.[2]
Etymology
Mosag is a Gaelic word which means "dirty female" or "filthy" according to J. K. Rowling.[3]
Behind the scenes
Appearances
Notes and references
See also