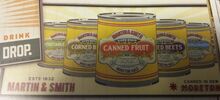 Moreton Dale Canning Factory was a cannery located in New York's 11th District.[1]
Once he returned from Europe, where he had been serving in the American Expeditionary Forces during the First World War, Jacob Kowalski found a job as a worker at Moreton Dale, but dreamt of becoming a baker.[2][3] He was eventually able to quit his job to pursue his dream after Newt Scamander left him an anonymous donation of silver Occamy egghells as collateral for a bank loan to fund his bakery.
During their visit to The Blind Pig speakeasy, Kowalski compared his foreman, presumably the foreman at the factory, to Gnarlak the goblin.
Appearances
Notes and references
Ad blocker interference detected!
Wikia is a free-to-use site that makes money from advertising. We have a modified experience for viewers using ad blockers

Wikia is not accessible if you've made further modifications. Remove the custom ad blocker rule(s) and the page will load as expected.