"Morag, please don't light the matches. No, no, no. Hold your wands to the left, not the right."
Morag (c. 1981) was a witch and a Hogwarts student in her youth. She was sorted into either Ravenclaw, Slytherin or Hufflepuff on 1 September, 1992.[3]
Sometime in late 1992, during a Transfiguration class about Transfiguring a matchstick Morag tried to light hers, and was scolded for it by Professor McGonagall.[3]
Behind the scenes
It is possible that Morag is Morag MacDougal, a Ravenclaw student in Harry Potter's year. She may have repeated her first year.
Appearances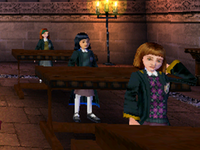 Notes and references
Ad blocker interference detected!
Wikia is a free-to-use site that makes money from advertising. We have a modified experience for viewers using ad blockers

Wikia is not accessible if you've made further modifications. Remove the custom ad blocker rule(s) and the page will load as expected.