Molly Weasley (b. 2000s) was the elder daughter of Percy and Audrey Weasley. She has a younger sister, Lucy. She is named after her paternal grandmother.[1]
Behind the scenes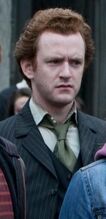 Etymology
Molly is an English name of Irish origin, meaning "sea of bitterness," and is a diminutive form of Mary, with the Latin meaning "star of the sea".
Appearances
Notes and references
Ad blocker interference detected!
Wikia is a free-to-use site that makes money from advertising. We have a modified experience for viewers using ad blockers

Wikia is not accessible if you've made further modifications. Remove the custom ad blocker rule(s) and the page will load as expected.