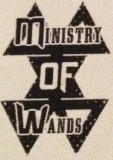 The Ministry of Wands (M.O.W.) was a British wizarding regulatory agency which presumably set and enforced standards for wands. A. Webb Servicing Ltd., a wand-servicing company, was officially endorsed by the M.O.W., and offered M.O.W. tests.[1]
It is unknown whether the M.O.W. was part of the Ministry of Magic, or operated independently.
Behind the scenes
Ministry of Wands is similar in branding to the Muggle's Ministry of Transport Test (MOT) which proves a vehicle's roadworthy state by regular examination and certification.
Appearances
Notes and references