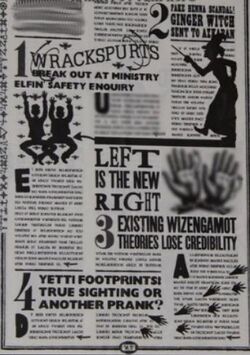 "WRACKSPURTS BREAK OUT AT MINISTRY ELFIN' SAFETY ENQUIRY."
—A The Quibbler headline
As once reported by The Quibbler, Wrackspurts broke out at a Ministry Elfin' Safety Enquiry sometime in, or prior to, 1998.[1]
Behind the scenes
This "Elfin' Safety Enquiry" is clearly a reference to the Health and Safety regulations and procedures employed in the modern workplace, as well as the magical creatures, house-elves. It may be also a reference to the British expression "elfin safety", an informal or pejorative reference to a Health and Safety Executive or to the modern obsession with health and safety.
Appearances
Notes and references