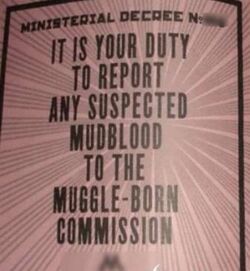 "It is your duty to report any suspected Mudblood to the Muggle-Born Commission."
—The Decree.
The Ministerial Decree Number 188[1] was a formal authoritative order with the force of law issued by the Ministry of Magic during the Death Eater regime, in 1997. It was presumably issued by the anti-Muggle-born Muggle-Born Registration Commission.
It reaffirmed that the reporting of any Muggle-born wizards was mandatory (previously established, with punishment of imprisonment if violated, in Ministerial Decree Number 184), noting that it was a citizen's "duty" to report suspected Muggle-borns.[2]
Appearances
Notes and references
Ad blocker interference detected!
Wikia is a free-to-use site that makes money from advertising. We have a modified experience for viewers using ad blockers

Wikia is not accessible if you've made further modifications. Remove the custom ad blocker rule(s) and the page will load as expected.