Minerva McGonagall's office was the place where Minerva McGonagall, the former Transfiguration professor, worked and slept during her stay at Hogwarts. It is located on the first floor of the Defence Against the Dark Arts tower. This tower overlooks the Training Grounds.
There is a sparse stone-floored bedroom behind a concealed door in the office's study.[1]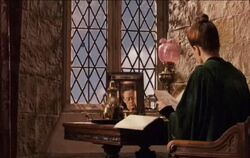 During their fifth year, the Gryffindor students went to this office to talk to Professor McGonagall about their academic future as she was their Head of House. Also, during Harry Potter's Fifth Year at Hogwarts, Neville Longbottom was forced to visit this office during the night to tell her that Harry was having a vision. There is a fireplace in this office, connected to the Floo Network, which was used by students during the 1996–1997 school year when they returned to Hogwarts, following the Christmas holidays. It is unknown whether she occupied this office due to her position as Transfiguration professor, Head of Gryffindor House, or Deputy Headmistress.
Behind the scenes
Appearances
Notes and references