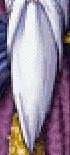 "Merlin's beard" is a common wizarding expression used to show surprise. There are several coarser variants, including "Merlin's pants,"[1] "Merlin's most baggy Y-fronts,"[1] (Said by Ronald Weasley) and "Merlin's saggy left —" (Arthur Weasley interrupted Ronald Weasley before he could complete this last expression).[1] This might be more insulting than others because of Molly Weasley's reaction.
Amos Diggory, like many others, used this expression when he met Harry Potter. Professor Horace Slughorn used this expression when Professor Dumbledore stuck his wand into Horace, who was transfigured into an armchair in 1996.
Behind the scenes
Edit
Appearances
Edit
Notes and references
Edit
Ad blocker interference detected!
Wikia is a free-to-use site that makes money from advertising. We have a modified experience for viewers using ad blockers

Wikia is not accessible if you've made further modifications. Remove the custom ad blocker rule(s) and the page will load as expected.