"Are you a wizard or not?"

The title of this article is conjectural. Although it is based on canonical information, the actual name is a conjecture and may be supplanted at any time by additional information released from canonical sources. If this occurs, please move this page to the appropriate title.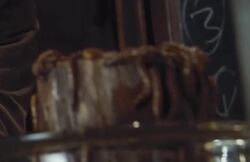 A mealworm was the larval form of the mealworm beetle (Tenebrio molitor).[1]
Alastor Moody (actually Bartemius Crouch Jr in disguise) kept a glass cannister filled with mealworms on the desk in his classroom during his tenure as Professor in Defence Against the Dark Arts in 1994 and 1995.[2]
Appearances
Notes and references