Mason Kayne is a British actor who appeared as a Death Eater in the Harry Potter film series[1].
Kayne worked for a number of years as a "mercenary of the entertainment industry" accepting any work that came his way, including jobs as a stage combat performer, a film/TV set runner, a film/TV double, a dancer, an actor and others[2]. He was considered for the role of Barnabas the Barmy in Harry Potter and the Order of the Phoenix, Barnabas would have appeared in the tapestry opposite the Room of Requirement depicting an unsuccessful attempt at teaching trolls ballet, but the scenes were never filmed and the moving tapestry containing Barnabas the Barmy does not appear in the final movie.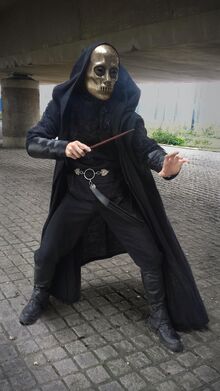 Kayne is still active as a performer and is best known for playing a young Gene Hunt in British BBC TV series Ashes to Ashes. He also taught groups of new Death Eater performers for special events at the The Making of Harry Potter studio tour in Leavesden and for other special events[3][4][5].
External Links
Notes and References
Ad blocker interference detected!
Wikia is a free-to-use site that makes money from advertising. We have a modified experience for viewers using ad blockers

Wikia is not accessible if you've made further modifications. Remove the custom ad blocker rule(s) and the page will load as expected.