"There are plenty of eye-witness accounts. Just because you're so narrow-minded you need to have everything shoved under your nose before you–"

This article contains a list of appearances, but currently has few or no notes and references. Please help the Harry Potter Wiki by adding notes and/or references to bring this article to a higher standard of quality.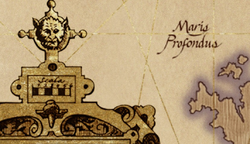 Maris Profondus was most likely a sea, near Maris Cristallus and the Archipelago Ridiculus. This sea was supposedly explored by Gilderoy Lockhart who wrote about his "adventure" in Travels with Trolls. This expedition was, however a feat stolen by Lockhart from another wizard, which memory was erased. Maris Profundus was included on the map featured on the cover of Travels with Trolls.
Etymology
"Mare maris" means "sea" in Latin. "Profundus" is Latin for "deep"; "profound"; "boundless".
Appearances