"There are plenty of eye-witness accounts. Just because you're so narrow-minded you need to have everything shoved under your nose before you–"

This article contains a list of appearances, but currently has few or no notes and references. Please help the Harry Potter Wiki by adding notes and/or references to bring this article to a higher standard of quality.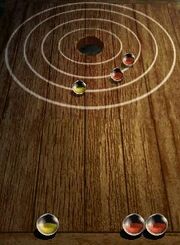 Marbles is a general term for a variety of games that can be played with small, spherical toys also called marbles. Generally, the games involve knocking other players marbles out of a drawn circle or sliding them into, close to, or away from certain areas. Marbles is generally a Muggle game, with wizards playing a variant known as Gobstones, where the enchanted marbles spit a putrid fluid into the face of the loser.
Appearances