Home
Talk

502
11,820pages on
this wiki
---

The Bloody Baron (late 10th century — early 11th century) was a wizard who attended Hogwarts School of Witchcraft and Wizardry in the Founders' time and was Sorted into Slytherin house. After Hogwarts, he fell in love with Helena Ravenclaw, but she did not love him. He was sent by Rowena Ravenclaw to find Helena in Albania, but Helena refused to return with him and so he killed her in a rage. When he realised what he had done, the Baron stabbed himself with the same knife and died. Since then, he is one of the ghosts that haunts Hogwarts School of Witchcraft and Wizardry, and the ghost of Slytherin house. Covered in Helena Ravenclaw's blood to this day, he earned himself the moniker of the "Bloody Baron".

(more...)

---

"Harry Potter and the Prisoner of Azkaban" is currently featured on Pottermore. Which of these characters, central to the book's plot, are you particularly eager to potentially learn more about?

 

---

RELATED ARTICLES:




---

---

02:52

Harry Potter - Fantastic Beasts Beastiary

---
Get the My Wikia App!
With Wikia's official flagship app, My Wikia, you can search for communities and add them to your home screen and read constantly evolving, deep content in a customizable format.
DOWNLOAD NOW FOR FREE!


Internal
External
Other Wikia
---
---

29 July
29 July is the 210th day of the year (211th in leap years). There are 155 days remaining.
Events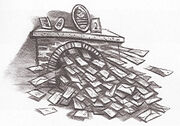 Behind the scenes
---

No quote of the week! Submit one below.
---

Create blog post
Lots of love,




HermioneRulz

Read more >

Main dishes from Hogwarts- Steak & Kidney Pudding

Desserts- Treacle Tarts

Drinks- Butterbeer & Pumpkin Juice

Favorite Jokeshop Treats- Lemon Drops

Magical Delights (Potions or Magical Foods)- Felix Felic…

Read more >

You are my favorite writer J.K Rowling.

Read more >
See more >