Magical Drafts and Potions
Talk

7
Magical Drafts and Potions is a book written by Arsenius Jigger. It is currently used as a textbook in the Hogwarts Potions subject and as such is one of the required textbooks for students entering their first year at Hogwarts. [1] A copy of this book costs 2 Galleons at Flourish and Blotts. [2]
History
During the 1995-1996 school year, Severus Snape set an essay on the properties of moonstone. Hermione Granger recommended that Harry Potter and Ronald Weasley use Magical Drafts and Potions to look up information on this essay, informing them that she had already lent her copy to Padma Patil. Unwilling to attempt to find the book in the library, Harry and Ron went to find Padma. She agreed to turn over the book if Harry assisted her with her Transfiguration homework.[3]
Contents
The book contains many potions, including:[2]
The book also contains information on the properties of moonstone and how it can be used in potions.[3]
Appearances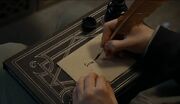 Notes and references