"Harry, your eyesight really is awful."

The title of this article is transcribed from an image. Due to several factors, including poor image quality and difficult-to-read fonts/handwriting, it may have been transcribed incorrectly. If you have a higher quality version of the source image, or a more accurate reading of the text, please visit this article's talk page.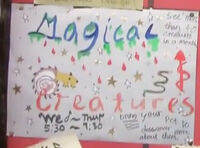 Magical Creatures was a club at Hogwarts School of Witchcraft and Wizardry for students with an interest in magizoology. Meetings took place Wednesday and Thursday from 5:30 to 7:30, and attendees were invited to bring their pets, in order to learn more about them. The club promised to show more than 40 creatures in a month.[1]
A notice letting students know about the club was posted on the Gryffindor common room noticeboard sometime during the 1990s.[1]
Appearances
Notes and references
Ad blocker interference detected!
Wikia is a free-to-use site that makes money from advertising. We have a modified experience for viewers using ad blockers

Wikia is not accessible if you've made further modifications. Remove the custom ad blocker rule(s) and the page will load as expected.