"Are you a wizard or not?"

The title of this article is conjectural. Although it is based on canonical information, the actual name is conjecture and may be supplanted at any time by additional information released from canonical sources. If this occurs, please move this page to the appropriate title.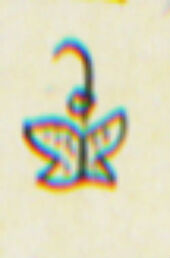 These were the earrings that were owned by Luna Lovegood. They appeared on her list of lost possessions in a plea for them to be returned, along with many other things the she, at first, had believed were stolen and taken away by Nargles, but then later realised it was just her classmates.
Appearances