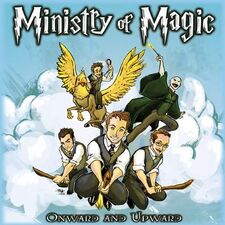 Ministry of Magic is a Wizard rock band, inspired by the Harry Potter book series by J. K. Rowling. The band's name is taken from the Ministry of Magic itself, the government system of the Wizarding world in Great Britain and is also sometimes shortened to MoM. Based in Ames, Iowa, America members include Luke Conard, Jason Munday, Aaron Nordyke, Ryan Seiler, Mark Jennings (Voldemark), and Jeremy Jennings.
The band was created in Ames, Iowa, America by the three huge Harry Potter fans their names are Luke Conard (Youtube celebrity), Ryan Seiler (Youtube celebrity), and Jason Munday (Youtube/Myspace celebrity) in 2006, Jason Munday had recently been part of a popular Christian Rap-Core band called 38th Parallel with band members by the names of Nathan Rippke Aaron Nordyke, Mark Jennings. In 2007Aaron Nordyke & in 2008 Mark Jennings joined the Ministry of Magic with Luke Conard, Ryan Seiler, and Jason Munday and soon after Mark's brother Jeremy Jennings, who had previously toured with them as their "merch-man", joined the band and on occassion his wife Amanda Jennings would add her piano skills to the shows. In 2009 Luke Conard, Ryan Seiler, and Jason Munday started to juggling both the Ministry of Magic band and solo careers.
Present Day : All the members of the band have agreed to do their own things and though still in contact with each other. They may get back together for a few shows in the future if asked to but say they have no plans to release any new material in the near future.
Popularity: though they did not tour in as many different nations as when they were in 38th Parallel, the group has toured through many major Wizard Rock and Harry Potter conventions in the US and UK. and they have had their album cover prominently displayed on an MTV special documenting the rising popularity of the Wizard Rock phenomenon. also their albums still sell quite well on iTunes
Wizard Rock People's Choice Awards
Edit
Complete list of MoM Albums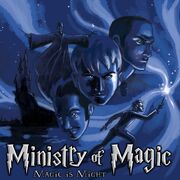 Some songs by Ministry of Magic include:
External links
Edit
Ad blocker interference detected!
Wikia is a free-to-use site that makes money from advertising. We have a modified experience for viewers using ad blockers

Wikia is not accessible if you've made further modifications. Remove the custom ad blocker rule(s) and the page will load as expected.