Lucius Malfoy's walking stick
Talk

14
"It's not a cane, you cretin, it's a walking stick..."
Lucius Malfoy's walking stick is an ornamental cane and heirloom of the Malfoy family. Most noticeably, however, it was owned and used by Lucius Malfoy. The cane itself is coated in shiny black lacquer. At the top of the stick is a silver snake's head, which has green crystal eyes. The snake's head is actually the handle of his wand, which is hidden inside the stick.
History
Early History
The walking stick, as a family heirloom, was passed down, from father-to-son, through the long line of pure-blood successors of the Malfoy line. Its past owners include Brutus Malfoy and Abraxas Malfoy, before it eventually passed into the hands of Lucius Malfoy, the patriarch of the Malfoy family during the time of the First and Second Wizarding War.
Lucius Malfoy's possession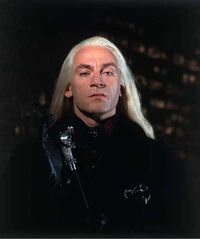 Throughout his life, Lucius was frequently seen with this walking stick. But in 1996, after his father was discovered as a Death Eater and sent to Azkaban, Draco Malfoy took possession of the cane and brought it with him to school. When looking through Draco's luggage, Argus Filch took the stick out and examined it. Thinking it was an artefact filled with Dark magic, Filch did not want Draco to enter the Castle with it. Severus Snape, however, pulled Draco out of trouble, as he was sworn to protect him. Despite using his father's walking stick, Draco was not known to use his father's wand during that year (it was presumably taken from Lucius when he went to Azkaban), so it it is possible Draco put his own wand in the place were Lucius's used to go in the walking stick.
The walking stick was returned to Lucius following his escape from Azkaban the following year. However, Lord Voldemort "borrowed" the wand from inside it to circumnavigate his own wand's brotherly connection with Harry Potter's. He snapped the snake head off the wand handle before bringing it with him to the Battle of the Seven Potters. It is unknown if the Wand was replaced.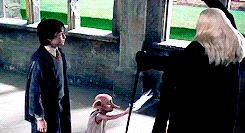 Behind the scenes
Appearances