Little Whinging's location within Surrey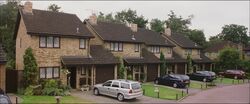 Since Rubeus Hagrid farewelled Harry Potter from London Paddington after taking him shopping in 1991 at Diagon Alley, Harry Potter most likely took a commuter rail service bound for Reading (the Muggle train company in 1991 was Network SouthEast); thus, it can be inferred that Little Whinging is in the northern part of Surrey, north of Staines, and that Harry got off the train at Iver or Langley, which is in Buckinghamshire on the border with Surrey. However, this doesn't make sense, since this has no residential houses whatsoever, and at the beginning of Harry Potter and the Half-Blood Prince (film), Harry is seen at Surbiton station, a station within Greater London on the suburban rail lines to Hampton Court, Woking and Guildford, indicating that he lived in this general area, which again doesn't make sense since Surbiton and the Iver area are very far apart.
As for the film, Little Whinging was filmed in Martins Heron in Berkshire, which is served by suburban rail on the London Waterloo - Reading route (NOT the one from Paddington)
See also
Appearances
Notes and references

This article about a location is a stub. You can help by expanding it.