Little Whinging
Location information
Location
Permanent residents
Little Whinging is a town in the English county of Surrey. Little Whinging is the home of Harry Potter, the Dursleys, and Arabella Figg.[1] Dementors attacked Harry Potter and his cousin here in 1995.[2]
Known streetsEdit
Streets in this town include Wisteria Walk, Magnolia Crescent, Magnolia Road, and Privet Drive (where the Dursleys' house is located at No. 4).[2]
EtymologyEdit
"Whinging" is another word for whining, an activity that Vernon and Dudley Dursley particularly enjoy.[3]
Behind the scenesEdit
Little Whinging's location within SurreyEdit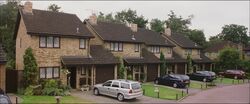 AppearancesEdit
Notes and referencesEdit

This article about a location is a stub. You can help by expanding it.