Professor Limebert (d. before 1992) was a wizard and Headmaster of Hogwarts School of Witchcraft and Wizardry sometime before Armando Dippet. [2]
Biography
Lifetime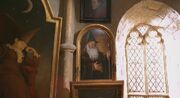 At some point in his life, Limebert became the Headmaster of Hogwarts.[2]
Post-mortem
Professor Limebert died sometime before 1992.[1] There was a portrait of him at the Headmaster's Tower, in order to give advice to the current Head.[2]
Appearances
Notes and references