Professor Limebert was a wizard and Headmaster of Hogwarts School of Witchcraft and Wizardry sometime before Armando Dippet.[2]
Biography
Lifetime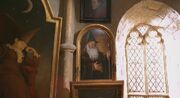 At some point in his life, Limebert became the Headmaster of Hogwarts.[2]
Post-mortem
Professor Limebert died sometime in or before 1992.[1] A portrait of him was hung in the Headmaster's office at Hogwarts School of Witchcraft and Wizardry in order to give advice to the current Head.[2]
Appearances
Notes and references
Ad blocker interference detected!
Wikia is a free-to-use site that makes money from advertising. We have a modified experience for viewers using ad blockers

Wikia is not accessible if you've made further modifications. Remove the custom ad blocker rule(s) and the page will load as expected.