"There are plenty of eye-witness accounts. Just because you're so narrow-minded you need to have everything shoved under your nose before you–"

This article contains a list of appearances, but currently has few or no notes and references. Please help the Harry Potter Wiki by adding notes and/or references to bring this article to a higher standard of quality.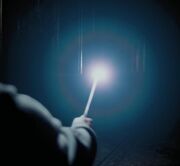 Light-creation spells are a family of spells used solely to create light in various forms. In the early days of wizarding history, light was provided via the use of various spells to project light from somewhere, or via an enchanted object such as a magic lantern. The invention of the Wand-Lighting Charm in 1772, which provides a strong light directly from the wand's tip, was a revolution in the manner of light-creation spells.
Known light-creation spells
Appearances