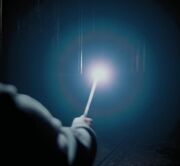 Light-creation spells are a family of spells used solely to create light in various forms. In the early days of wizarding history, light was provided via the use of various spells to project light from somewhere, or via an enchanted object such as a magic lantern. The invention of the Wand-Lighting Charm in 1772, which provides a strong light directly from the wand's tip, was a revolution in the manner of light-creation spells.
Known light-creation spells
Appearances
Ad blocker interference detected!
Wikia is a free-to-use site that makes money from advertising. We have a modified experience for viewers using ad blockers

Wikia is not accessible if you've made further modifications. Remove the custom ad blocker rule(s) and the page will load as expected.