Leta Lestrange: Newt's First Cause
"You're too good, Newt. You've never met a monster you couldn't love."
—Leta's opinion of Newt Scamander (and of herself)
Leta Lestrange[8] was a pure-blood witch[3] born into the pure-blood Lestrange family. She attended Hogwarts School of Witchcraft and Wizardry between 1908 to 1915.[6] While at school, she developed a close relationship with Newton Scamander.[8] Leta was the fiancée of Newt's older brother Theseus by 1927.
Biography
Early life
Leta Lestrange was born somewhere in the United Kingdom area circa 1897, the only child of Corvus Lestrange and his first wife, Laurena Kama.[4] The Lestranges were an old, respected British pure-blood family, deemed one of the "Sacred Twenty-Eight" by Cantankerus Nott.[9]
Sometime after Leta's birth, her father married his second wife, Clarisse Tremblay. This marriage produced one child, a son, Corvus.[4] However, at some point, Clarisse died, and both Leta and her half-brother were taken by ship to be given up for adoption. Bothered by his incessant crying, Leta switched him for another baby in the crib. When the ship sank, one of the escape boats capsized and her half-brother drowned.[10] The switched baby ended up being raised by an unrelated woman in New York.[11][12]
Hogwarts years
Queenie Goldstein: "That was a real close friendship you had at school."
Newt Scamander: "Yes, well, neither of us really fitted in at school, so we —"
— Newt and Leta's unusually close relationship
She attended Hogwarts School of Witchcraft and Wizardry. While there, she developed a close friendship with Newton Scamander, bonding over their shared love magical creatures and their outsider status.[13][8]
In 1913, one of Leta's experiments involving a Jarvey went too far, endangering the life of another student.[13][14] It also violated laws prohibiting the possession of this creature.[14] Rather than see his good friend expelled, Newt took the blame, and was thus sentenced to be expelled from Hogwarts in Leta's place.[13][15][16][17]
Later life
"I don't really know what Leta likes these days because people change."
—Newt referring his and Leta's falling out
Newt Scamander
remained in love with Leta many years after their parting.
[18]
He kept a framed photograph of her in
the work shed
inside his
magically-expanded suitcase
during his travels. In late
1926
, while visiting
New York
,
Queenie Goldstein
saw the picture, asking Newt about it. She used
Legilimency
on him, noting that Leta was "a taker" in their relationship.
[8]
By 1927, Leta worked at the British Ministry of Magic as assistant to the Head of the Department of Magical Law Enforcement Torquil Travers.[19] She had also become engaged to Newt's older brother, Theseus Scamander.[5]
Death
She died in 1927 when confronting Gellert Grindelwald at the Lestrange family Mausoleum in Paris.
Physical appearance
Leta was described as beautiful in her youth.
Personality and traits
"She was a taker."
—Leta's self-serving nature
According to Queenie, Leta was a taker and not a giver.[8] Leta has been described as a quite complicated, damaged and confused lady. She is a kind of tragic figure and Newt is absolutely still in love with her; she has a kind of power over him.[18]
Etymology
Leta most likely originates from the name Leda, daughter of Aetolian king Thestius, an Aetolian princess who became a Spartan queen in Greek mythology, of which the story of Leda and the Swan is the focus.

In the story, Zeus takes the form of a swan and rapes her. Their consummation, on the same night as Leda lay with her husband Tyndareus, resulted in two eggs from which hatched Helen (aka "Helen of Troy", said to be the most beautiful woman in the world and an instigator of the Trojan War), Clytemnestra, and Castor and Pollux (who became the constellation Gemini).
The name Lita is of Latin origin and means "gladly."
Behind the scenes
"The relationship between Leta and Newt Scamander is a complex relationship, so I think there will be a lot of time for that to grow and develop, which will be fun."
—Zoë Kravitz about her character Leta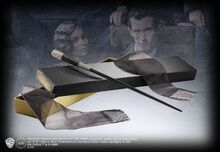 Appearances
Notes and references