"Are you a wizard or not?"

The title of this article is conjectural. Although it is based on canonical information, the actual name is conjecture and may be supplanted at any time by additional information released from canonical sources. If this occurs, please move this page to the appropriate title.
The left Long Gallery tower is one of the many towers of Hogwarts Castle. It is located to the left of the Viaduct Entrance and is connected to the Stone Bridge.[1]. The Potions Classroom is located at the bottom of the tower[2] and a hall on the first floor leads to the Stone Bridge.[3]. It is one of the four towers surrounding the Viaduct Entrance, along with the Second-floor girls' lavatory tower and the right Viaduct tower.
Content
Potions Classroom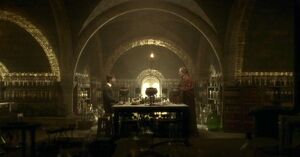 The Potions Classroom is where Potion classes are taught. The classroom used to be squared-sized, very large, with large tables and windows[4]. From 1995-onwards, the classroom was of an oval shape and relatively smaller, with small work tables[5]. In 1996, the classroom was extended, adding space for more work tables[6].
First floor Corridor
The First Floor corridor passes through this tower before the Stone Bridge.
Behind the scenes
Appearances
Notes and references

This article about a location is a stub. You can help by expanding it.