Leech
Talk

0
11,885pages on
this wiki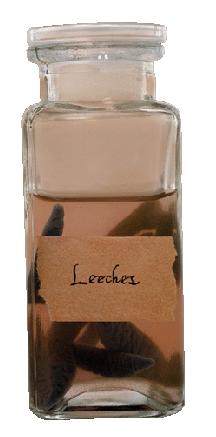 "Hirudo medicinalis, the medicinal leech: popular among Muggle healers (who believe that the blood-sucking creatures are able to treat illnesses) and useful to wizards in potion-making."
Leeches are small slug-like creatures that live in water. They feed on human blood and/or that of other small invertebrates.[1]
The Hirudo medicinalis species (vulgarly known as the medicinal leech) are used in potion-making: to make the Polyjuice Potion, four unsucculated leeches are required. [2][3] Also, a dash of leech juice is a required ingredient in the making of the Shrinking Solution. [4] Flabberghasted leeches are also used in potion-making.
Behind the scenes
The use of leeches in the Polyjuice Potion was chosen by J. K. Rowling to represent "[sucking] the essence out of one and into the other".[5] Interestingly, the film prop used for Moste Potente Potions suggests that the leeches used have their suckers removed.
Appearances
Notes and references