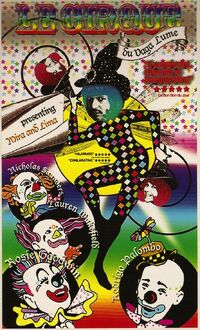 Le Cirque du Vaga Lume was a Muggle circus. Described by a reviewer from Le Bon Bon du Jour as "a wonderful triumph of imagination", it featured the talents of performers Mina, Lima, Nicholas Saunders, Lauren Wakefield, Rosie Goodwin, and Rodrigo Palombo. A poster promoting this circus was put up on the wall of the Luchino Caffe in 1997.[1]
Behind the scenes
Appearances
Notes and references
Ad blocker interference detected!
Wikia is a free-to-use site that makes money from advertising. We have a modified experience for viewers using ad blockers

Wikia is not accessible if you've made further modifications. Remove the custom ad blocker rule(s) and the page will load as expected.