"Harry, your eyesight really is awful."

The title of this article is transcribed from an image. Due to several factors, including poor image quality and difficult-to-read fonts/handwriting, it may have been transcribed incorrectly. If you have a higher quality version of the source image, or a more accurate reading of the text, please visit this article's talk page.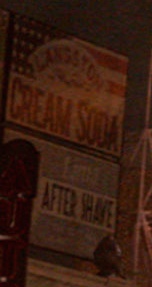 Lania After Shave was a No-Maj brand of aftershave in the early 20th century.
In December 1926, when Newt Scamander visited New York, there was a billboard advertising this product on the roof of the Sovereign Theatre in Times Square.[1]
Appearances
Notes and references