Kowalski Quality Baked Goods was a bakery owned by Jacob Kowalski and located at 443 Rivington Street in New York.[1][2]
Opened by Jacob Kowalski in early 1927,[3]- after Newton Scamander discreetly left him a suitcase full of Occamy eggshells that he could use as collateral for a loan- it offered many polish specialty cakes and pastries including piernik, paczkis, faworki aka, chrust, babka, makowiec, and sernik. Breads included obwarzanek krakowski, challah, angielka, and slask. It was particularly famous for its imaginative pastries, whose shapes resembled many magical beasts.
Henry was Jacob's assistant at the bakery.[4]
Appearances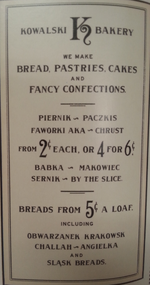 Notes and references
Ad blocker interference detected!
Wikia is a free-to-use site that makes money from advertising. We have a modified experience for viewers using ad blockers

Wikia is not accessible if you've made further modifications. Remove the custom ad blocker rule(s) and the page will load as expected.