Needlework is a broad term for the handicrafts of decorative sewing and textile arts. Any craft made with the assistance of a needle for construction can be called needlework. Knitting is a kind of needlework, by which thread or yarn may be turned into cloth or other fine crafts. Needlework is a popular pastime in the wizarding world. There exists a charm that can perform this task.
Known needleworkers
Edit
Rubeus Hagrid
Edit
In the summer of 1991, Rubeus Hagrid took Harry Potter to Diagon Alley, in London, via Muggle train. Once they climbed aboard, Hagrid started knitting something that looked like a yellow circus tent, counting his stitches.[1]
Molly Weasley
Edit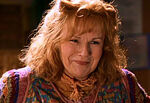 Molly Weasley usually knits her family jumpers at Christmas. She tends to knit pictures relating to something that the receiver likes or the initial of their first name. She also sends Harry Potter a Weasley jumper each Christmas, as he is a close friend of the family, arguably a de facto member.[2][3][4][5][6][7]
Sybill Trelawney
Edit
In the evening of 6 December, 1994, Sybill Trelawney sat in her office in the North Tower doing needlework when, according to her, she she had an unsettling urge to orb-gaze and while doing so she saw an aura of death over the Castle.[8]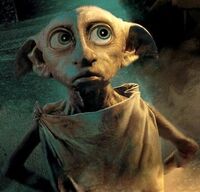 For Christmas, 1994, Dobby knitted a pair of socks to offer Harry Potter: the left sock was bright red and had a pattern of broomsticks upon it; the right sock was green with a pattern of Snitches. In exchange, Harry gave the elf a pair of old socks that once belonged to Vernon Dursley. Dobby bought the wool out of his wages from working at the Hogwarts kitchens.[4]
Hermione Granger
Edit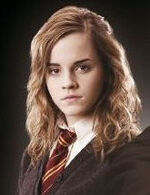 Hermione Granger knitted hats and socks for House-elves in her Hogwarts years. She was obsessed with her Society for the Promotion of Elfish Welfare.[9] Her early efforts were thought by Harry and Ron to be rather poor, but it was said that she later improved as she had more practise. She was a slow knitter without magic, but was able to work with speed once she was able to use magic in her knitting.
Albus Dumbledore
Edit
Albus Dumbledore might have been a knitter in his spare time, as he was self-admittedly a lover of knitting patterns and enjoyed reading knitting magazines such as "Knitter's Own."[10]
Minerva McGonagall
Edit
Needlework was one of
Minerva McGonagall
's hobbies later in her life.
[11]
Appearances
Edit
Notes and references
Edit
Ad blocker interference detected!
Wikia is a free-to-use site that makes money from advertising. We have a modified experience for viewers using ad blockers

Wikia is not accessible if you've made further modifications. Remove the custom ad blocker rule(s) and the page will load as expected.