"Are you a wizard or not?"

The title of this article is conjectural. Although it is based on canonical information, the actual name is conjecture and may be supplanted at any time by additional information released from canonical sources. If this occurs, please move this page to the appropriate title.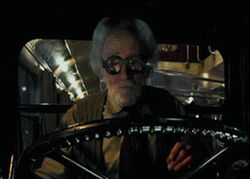 The Knight Bus driver drives the Knight Bus and ensures that all passengers make it to their respective destinations. It looks as though there is no limit to the distance a witch or wizard wants to go, as there are beds and, possibly, a way that allows the Knight Bus to travel across water.
Known drivers
Behind the scenes
It is unknown if Ernie is the only driver working on the Knight Bus. However, it is unlikely, as the bus is available at every moment of the day and night, every day of the year.
Appearances