Ron Weasley: "What was that?"
Harry Potter: "It was either a very big cat or quite a small tiger."
— Ron and Harry meet Crookshanks for the first time
A Kneazle is a magical feline creature related to, and similar in appearance to, a cat. They have spotted, speckled or flecked fur, large ears and a lightly plumed tail, like a lion. They are thought to have separate breeds, like cats, and therefore vary in appearance. They make excellent pets if they like a witch or wizard.
Description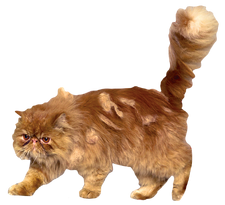 Kneazles can interbreed with normal cats, and generally have up to eight kittens in every litter. Kneazle owners are required to have a licence to own the animals. Some wizards and witches make a living by breeding Kneazles or part-Kneazles. Arabella Figg, a Squib, makes her living in this manner, which would explain why she has so many cats.[1] One notable Kneazle hybrid is Hermione Granger's half-Kneazle, Crookshanks.
Kneazle whiskers can be used in wand cores although they are said to make inferior wands when compared with Unicorn hair, Phoenix feather and Dragon heartstring.[2]
Nature
They have a very high level of intelligence, are independent and occasionally aggressive, and have an uncanny ability to detect suspicious and distrustful people. They can also safely guide their owners home. Because of their aggression towards certain individuals, Kneazles have a XXX classification by the Ministry of Magic if they are not interbred with another species.[3]
Known kneazles and part-kneazles
Pure kneazles
Half-kneazles
Appearances
Notes and references
Ad blocker interference detected!
Wikia is a free-to-use site that makes money from advertising. We have a modified experience for viewers using ad blockers

Wikia is not accessible if you've made further modifications. Remove the custom ad blocker rule(s) and the page will load as expected.