"Is this all real? Or has this been happening inside my head?"

The subject of this article is of a real-life person, place, group, company, product, or creative work that has been mentioned "in-universe" in a canon source. The Harry Potter Wiki is written from the perspective that all information presented in canon is true (e.g., Hogwarts really exists), and, as such, details contained in this article may differ from real world facts.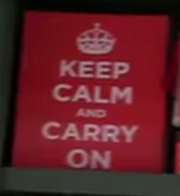 Keep Calm and Carry On was a British motivational poster first produced in 1939 to raise public morale during the Second World War. The poster features the words "KEEP CALM AND CARRY ON" printed in white on a red background, with the Tudor Crown placed above the words.
A kiosk in London, England sold reproductions of the Keep Calm and Carry On poster, along with other British-themed merchandise for tourists, during the late 1990s.[1]
Appearances
Notes and references