John Christopher "Johnny" Depp II is an American actor, producer, and musician who portrayed Gellert Grindelwald in Fantastic Beasts and Where to Find Them and Fantastic Beasts: The Crimes of Grindelwald.[2][3]
Casting controversy
News of Depp's casting has provoked many negative reactions within the Harry Potter fandom, some citing the alleged physical and emotional abuse of his ex-wife Amber Heard, and/or a dislike for his recent performances.[4][5][6]
Melissa Anelli of The Leaky Cauldron website and The Harry Potter Alliance theorised the leak was intentional to test fans' reactions, given the disconnect between casting an alleged perpetrator of domestic violence and the core values of the Harry Potter series, but expressed hope that the Harry Potter franchise will again do what is right in the end.[7]
David Heyman stated in an interview with Snitchseeker that Depp was cast before the abuse allegations. He went on to say that "clearly any form of abuse is unacceptable. It's so central to all of Jo's writing. But I don't think any of us know what happened in that room. What I can tell you is that he's a wonderful actor, he was a pleasure to deal with, he's been a pleasure to deal with on all aspects of Fantastic Beasts and speaking to people who have worked with him in the past, people who have known him, gone out with him, even been married to him, they speak of him in glowing terms. I have no idea what happened in that room and I don't think it's fair for me or us to judge. What I do agree is that any abuse is unacceptable." When asked if they intended to continue moving forward with Depp in the franchise, Heyman responded "Absolutely".[8]
David Yates addressed the casting in an interview with The Leaky Cauldron, saying "the whole principal of casting the movie was go with the best actor. Go for the most inspired, interesting, right fit for that character. And as we approached Grindelwald we thought, 'who's going to take this in an interesting direction?' In this business, it's a weird old business. You're brilliant one week, people are saying odd things the next, you go up and down. But no one takes away your pure talent."
"Johnny Depp is a real artist. He's created several characters who have really resonated in our popular culture. He's a really brilliant, brilliant actor. We were excited about seeing what he would do with this guy, the character. He's fearless; he's imaginative; he's ambitious. We thought he would do something fun and special. So we went for him, purely on that selfish basis. We don't care if he's famous or not famous. We just know he's interesting."[9]
J. K. Rowling stated in an interview with Metro at the film's premiere that she was "delighted" with the casting of Depp, saying "he has done incredible things with that character".[10] On 7 December, 2017, Rowling weighed in further on the casting in a piece posted on her official website. She stated that she understood why some would be confused and angry about the role not being recast and that it had been personally painful for her to not speak openly to fans about the issue, but agreements had been put in place. She further stated that based on their understanding of the situation that both she and the filmmakers were not only comfortable with but happy with their choice and that while some might not be satisfied, "conscience isn't governable by committee."[11]
Behind the scenes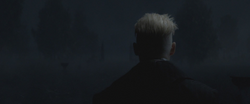 Appearances
Notes and references
This article about an actor or actress is a stub. You can help by expanding it.